Information about the lures!
The lures are approx. 1 1/4" lg. and about an 1/8 ounce in weight or i have smaller ones that are 1"lg. and 1/16 oz.
Can be fished with or with out the bead if you want to use bait.
I like to use a 2" mini tube on the end. By pinching
off the end of the tube and push it over the bead.This gives you a little extra action..
The purpose for the bead is so that the fish doesnt
get caught on the barb so that you can just shake off the fish. Which increases speed and saves your
hands from getting wet..
I like to send the lure to the bottom and reel up once or twice. Then start to jig it a little and keep repeating this until Wham!
Thats all thats to it!

If you have a color sceme you would like let me know.!
I Have a variety of Colors!

5 lures for 10.00
10 lures for 20.00
I will include a variety of colors specify small or large lures you
can mix. Just send a e-mail with your order and I will let you know how long it will take depending on how backed up I am.
Make sure to send your address along with your order and $ 2.00 for shipping.
I accept checks, cash or money orders in U.S funds only!!!..
Once they are done, I will e-mail you and we can send each other the lures and money at the same time.
Im a straight forward and honest person and hope you are too.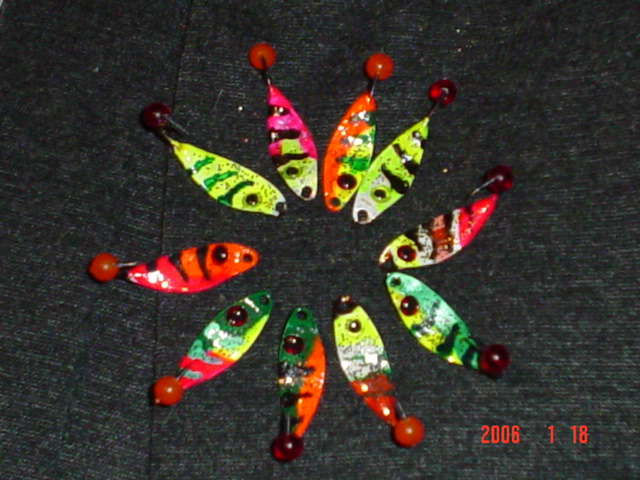 Some other Hot colors!
These are the larger size lures.The smaller
size is about half the width and a little shorter.
On the next page i show one rigged up the way i fish them!!!